Info & Resources
Thank you for your interest in becoming a Sponsor of The Great Stoneboro Fair!
There are many different levels of sponsorship available, please contact the fair office at (724) 376-2852 to learn more or see the attached for more information! Sponsorship Opportunities
Exhibitors
Thank You:
Exhibitor participation contributes greatly to the overall success of the fair. Thank you for doing your part in helping to make The Great Stoneboro Fair a success!
Online Exhibitor Forms:
Please print these forms and fax or mail them to the address on the form.
Vendors
Your participation in the Great Stoneboro Fair is a vital part of our overall success so thank you for participating! Please contact the Fair Secretary for Vendor information and registration. Click the link below to download the 2023 Vendor Application. The Great Stoneboro Fair reserves the right to deny an application without reason or cause at any time.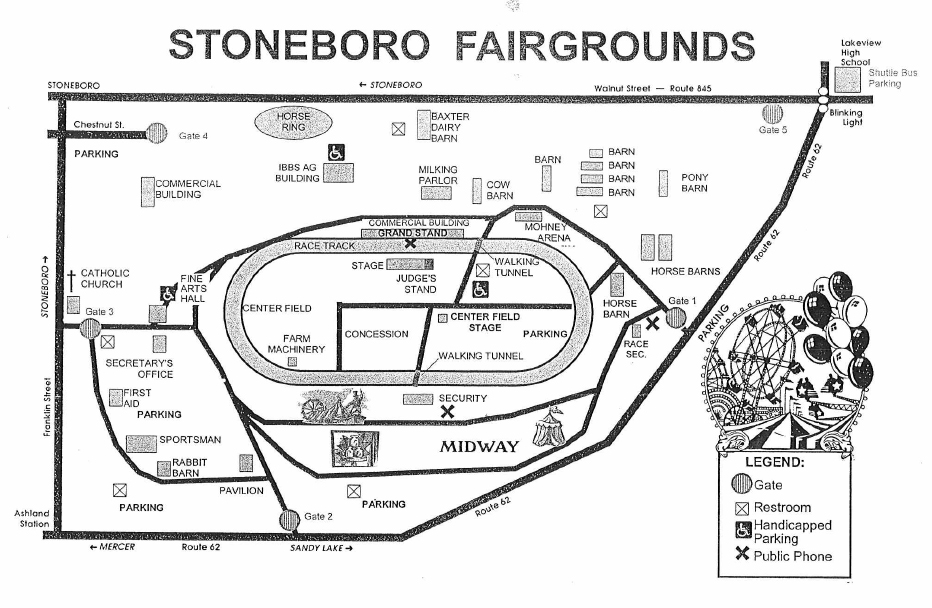 Q: What are the office hours for the Secretary's Office?
A:  The office hours year round are Wednesdays from noon – 5pm.  Enter from Rt. 62 near the horse barns.  In August, there are extended office hours as the fair approaches.
Hours during the Fair:    10am – 10pm
Q: I am interested in becoming a vendor at The Great Stoneboro Fair. Who do I contact?
A: Contact the office at 724-376-2852. Vendor applications can also be found on our website.
Q: How do I become an exhibitor at The Great Stoneboro Fair?
A: Please refer to our Premium Book for all exhibitor entry information and forms.  Print copies will be available midsummer at the Fair Office (open Wednesdays from noon to 5pm).  You can also use this link to get the online version now!  Just print, complete and submit by the entry deadline in early August!
Q: I have young children, are there rides and shows for them?
A: Please refer to our Admissions Info for details on pricing and ride information.  Remember!  We've also got great Centerfield shows plus Pony Rides for them to enjoy.  They can also enjoy the Animal Exhibits, Wildlife Exhibit, fireworks (Saturday and Sunday nights) and more!  There's plenty of fun for all ages.
Please call the Fair Office to make payment arrangements if needed (724) 376-2852.
The Great Stoneboro Fair includes five parking areas to our visitors. Gate Parking Lots 1-4 are open during the fair during fair hours. Gate Parking Lot #5 will open when Gates 1-4 are full. The Fair also provides transportation from Lakeview High School only when all Parking Lots are full. Gate employees will direct visitors to the school location when lots are full.
Handicap Parking & Services
Handicap Parking is available. Please use Gate 2 and Gate 3.  Golf cart courtesy shuttles are available at Gate 2 to assist with transportation up and down the hill to the main walk way.  There are no wheelchair rentals available on the grounds.
Please complete the Jr. Fair Board Application below (link to Google Forms)
https://docs.google.com/forms/d/16oHjnBAmKsI2V5KxFSdBYa_qzmvA3aI6m5IzbmjJG6o/viewform?ts=63ed369a&edit_requested=true